Shopping Cart
Your Cart is Empty
There was an error with PayPal
Click here to try again
Thank you for your business!
You should be receiving an order confirmation from Paypal shortly.
Exit Shopping Cart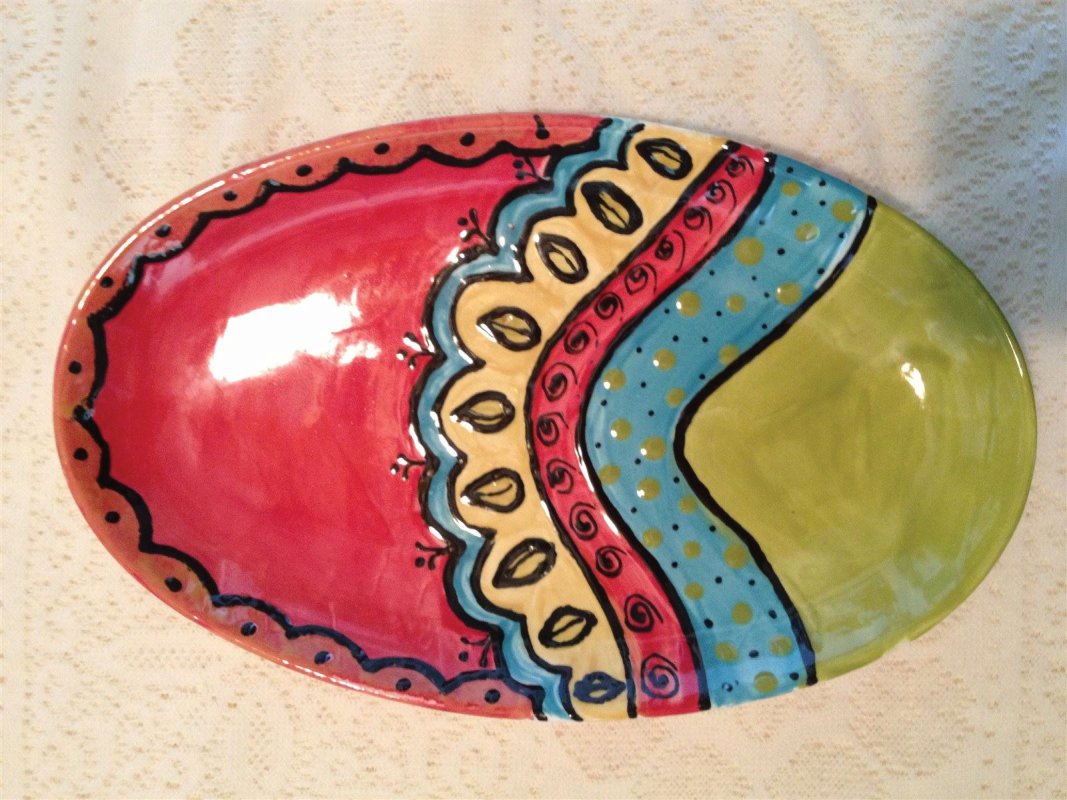 UNCORKED & GLAZED OVER
Sept. Class - Look at this BEAUTIFUL platter created in our first WINE & POTTERY painting class.  We had 27 ladies in attendance and we had a BLAST! 

Don't miss our next class ...Thursday, OCT, 24th starting at 7 pm.  Our new project will be a WINE GOBLET.  The shape and size is very elegant!  Call Francine now to sign up.  Class size is limited...so don't delay calling.  

SURVIVE THE WORLD'S LONGEST YARDSALE AUGUST 2-4 BY STOPPING AT RISING SONS WINERY FOR SOME "SURVIVOR FUN"
*TAKE A BREAK FROM THE MADNESS & COME JOIN OUR FESTIVITIES!  WE'LL BE SERVING OUR DELICIOUS WINE & GRILLING OUR FARM-RAISED LEAN BEEF BURGERS ALL WEEKEND.  DON'T MISS OUR "SURVIVOR SANGRIAS" (PEACH OR STRAWBERRY)

*YOU CAN SHOP WHILE YOU RELAX!  OUR WINEY WOMEN WILL HAVE LOTS "FUNKY JUNK" AT THE BARN FOR YOU TO DIG THROUGH!

*ENTERTAINMENT SATURDAY EVENING FROM 6-9 PM.

*LET'S ALL TAKE A BREAK AND PRETEND WE'RE ON AN ISLAND FAR, FAR AWAY!  WE'RE WEARING OUR ISLAND CLOTHES, ARE YOU???

*RISING SONS WINERY – SPECIAL HOURS AUG 2-4:  FRIDAY 8-7, SATURDAY 8-9, AND SUNDAY 9-5. For more info call 502-600-0224. **WINERIES ON THE "BEST KY WINERIES" WINE TRAIL ARE HAVING VARIOUS ISLAND THEMES AUG 2-4.  PLAN TO VISIT THEM ALL!
RISING SONS WINERY will host our first "LOVE YOUR LOCALS Event".  Get ready for Valentine's Day with our "Create Your Own Gift Basket/Gift Bag" extravaganza on Saturday, February 9 from 11-7!  Show your sweetheart you really care with a gift made from products created right here in Anderson County!

We're hosting Lawrenceburg's newest author, TAMARA SMITH, author of "Just Do You" books; little books full of inspiration. She's written one book for teen girls and one for the lovely ladies in your life.  Tamara will personally sign your gift book with a special message for your love!  She'll be here from 1-5 pm.

Give your "honey" some delicious local HONEY and sweeten up his/her life!  Barbara Gillette's bees produce the best honey ever!  She also creates flavored lip balms and spiral candles from the beeswax.   We have some cute handmade Valentine cards made with a "HONEY & BEE" theme to give with your gift!

Every Valentine needs some candy!  We'll have Bauer's famous MODJESKAS for sale.  Add one of these little bags of caramel or chocolate yummies to your gift basket or bag! 

Make your Valentine's Day special with a romantic candle from Wicks & Wonders.  We carry the original "Vineyard" scent from Lawrenceburg Candle Company.  This candle has such a pleasing grape aroma, you'll think you're in the vineyard!

Any and all of these gift items would pair nicely with a bottle or two of RISING SONS WINE.  "Chocolate is nice, roses are fine, but nothing says I LOVE YOU like a nice bottle of wine!"  Not only do we have wine, but wine related gift items such as napkins, kitchen towels, coasters, magnets, t-shirts, & our own BEAUTIFIED REDNECK WINE GLASSES!  There's something for everyone, man or woman!

So come on out Saturday, February 9and have some fun!  Enjoy special treats for our customers in the tasting room.  Come meet Tamara, do your Valentine's shopping, and enjoy a glass of wine or do a wine tasting while you're here! 
/